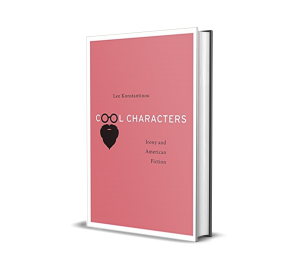 Charting a new course in the criticism of postwar fiction, Cool Characters examines the changing status of irony in American cultural and political life from World War II to the present, showing how irony migrated from the countercultural margins of the 1950s to the cultural mainstream of the 1980s. Along the way, irony was absorbed into postmodern theory and ultimately become a target of recent writers who have sought to create a practice of "postirony" that might move beyond its limitations.
As a concept, irony has been theorized from countless angles, but Cool Characters argues that it is best understood as an ethos: an attitude or orientation toward the world, embodied in different character types, articulated via literary style. Lee Konstantinou traces five such types―the hipster, the punk, the believer, the coolhunter, and the occupier―in new interpretations of works by authors including Ralph Ellison, William S. Burroughs, Thomas Pynchon, Kathy Acker, Dave Eggers, William Gibson, Jennifer Egan, Jonathan Lethem, and Rachel Kushner.
For earlier generations of writers, irony was something vital to be embraced, but beginning most dramatically with David Foster Wallace, dissatisfaction with irony, especially with its alleged tendency to promote cynicism and political passivity, gained force. Postirony―the endpoint in an arc that begins with naive belief, passes through irony, and arrives at a new form of contingent conviction―illuminates the literary environment that has flourished in the United States since the 1990s.
Reviews and Endorsements
Cool Characters is a major work of criticism that promises to transform the study of post–World War II American literature. It will be of enormous interest to graduate students and professors in the field, as well as to anyone interested in the state of contemporary literature. (Michael Clune, author of White Out)
Lee Konstantinou's Cool Characters is the best study of post-1945 fiction that I have read since Mark McGurl's The Program Era, and it will no doubt be as influential. (Andrew Hoberek, author of The Twilight of the Middle Class)
Konstantinou tells the story of 'how postmodernism became historical' with some of the verve of a novelist, but without sacrificing any of the virtues we expect to find in the work of a top-notch cultural critic. It is, in the most surprising way, a character-driven story, and one that sets out to answer a key question about our now routinely ironic culture: how might we take it and ourselves seriously again? (Mark McGurl, author of The Program Era)
Corrections to Cool Characters: Irony and American Fiction
• "Irony, Contingency, and Solidarity" to "Contingency, Irony, and Solidarity"
• "might be understood also as" should read "might be understood as"
• "example of the ironic signification" should read "example of ironic signification"